The PICASO ICT platform is now being tested in two different clinical and national settings. Preliminary results show that PICASO facilitates the management of patients and medication adherence.
Two main aspects of the PICASO platform are tested in the trials: the sharing of patient data and care plans across care sectors for a more holistic treatment of people with multimorbidities. And the involvement of patients in their own care for a better health outcome.
The trials
One trial is carried out in Rome, Italy, by the University Tor Vergata and the Department of Psychiatry of the Institute of Treatment and Research, Santa Lucia of Rome. It involves 30 patients over 65 years of age with Parkinson's Disease and an associated comorbidity. Ten patients will use PICASO and 20 will be part of a control group. Health professionals using the PICASO platform include: radiologists, nuclear medicine physicians, neurologists, psychiatrists and neuropsychologists.
The other trial takes place in Germany, organised by the Policlinic of Rheumatology & Hiller Research Unit at the Heinrich-Heine University in Düsseldorf. Here, the target is 30 patients who attend the outpatient clinic. They are over 18 years of age and have Rheumatoid Arthritis with a cardiovascular comorbidity. The patients will evaluate the platform together with their physicians (rheumatologists, rheumatologists in training and others) over a period of 6 months.
Sharing data and care plans
The two clinical trials use the PICASO ICT platform to support a collaborative sharing of patient data and care plans between the different health professionals involved in the treatment. The clinician user interface shows the overall picture of the patient and enables the clinician to adjust care.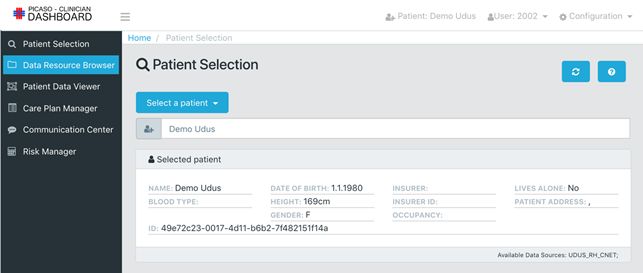 In Italy where the first PICASO patient was enrolled in March 2018, the system is running successfully:
– From a clinical perspective, both physicians and healthcare professionals are very positive so far. They have access to both the clinical history and the home monitoring data, and this facilitates the management of their patients, says Dr. Agostino Chiaravalloti from the University Hospital of Tor Vergata, who leads the trial in Italy.
The PICASO functionalities have also generated several positive expectations about the future interaction among physicians:
– The system allows direct and easy contact between different physicians, who will be able to manage several aspects and problems that derive from daily clinical activities. This saves time and causes less discomfort for patients, says Dr. Agostino Chiaravalloti.
Involve patients in their own care
Enrolled patients are equipped with a home monitoring solution whereby they can measure relevant physiological parameters at home and submit selected observations to the hospital/clinic. This empowers them to play a more active part in their own care and to influence treatment.
The patients can view their measurements and status through a user interface which also gives them an overview of planned activities with status indications and a reminder function, the latter of which is particularly useful: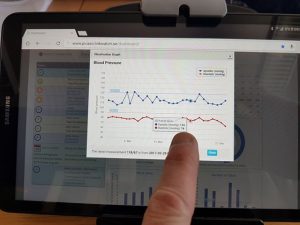 – There is a general consensus among the Italian patients that the patient dashboard provides several benefits in the management of drug intake by means of reminders, says Dr. Agostino Chiaravalloti.
The patient can also grant access to carers such as relatives, nurses or home carers who can access the patient dashboard from a web client.
– Preliminary feedback shows that PICASO seems to help carers in their daily management of patients with chronic conditions. In particular, caregivers are able to check drug intake and other relevant parameters measured by the home monitoring devices. This relieves them from some of their tasks, thus having more time for other clinical duties, explains Dr. Agostino Chiaravalloti.
Secure exchange of patient information
To safely share patient information among all relevant stakeholders, PICASO uses a unique, trust federated solution. The platform operates with divisions into private clouds (care system and patient) and a public cloud for integration purposes. Each trial has a private care cloud where clinical data reside inside the hospital/clinic, and access and use is done by authorization and access restrictions.
Access to patient data is granted based on the written informed consent by the patient, and data are collected, passed on and stored in a pseudonymised way.
High interest in Germany
Whereas the Italian trial has lasted a few months, the German trial has just started and to date, 22 patients have been recruited, and eight physicians are using the PICASO platform. Even though the trial is at an early stage, expectations are high, not only from patients and physicians but also from external stakeholders:
– Both patients and physicians are positive towards the project, but we also experience high interest from other clinical disciplines, patients' self-help groups and suppliers of health care insurance who we continually are in dialogue with, says Professor Dr. Jutta Richter from the Policlinic of Rheumatology and Hiller Research Unit at the University Hospital of Düsseldorf, who leads the German trial.
The trials will last until February 2019.
Positive feedback from the clinical trials