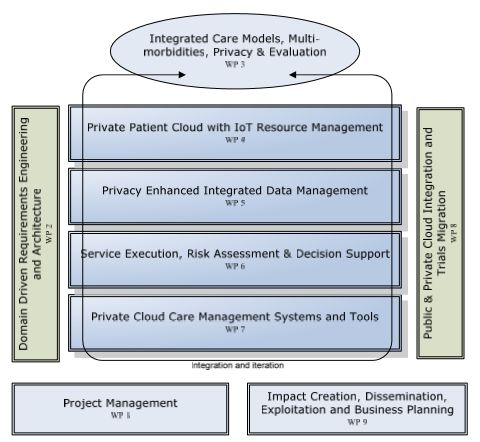 WP1 Project management
General management of the project, ensuring a consistent high quality of work. Lead is Fraunhofer FIT.
WP2 Domain .Requirements Engineering and Architecture
Iterative requirement engineering, scenarios and use cases, architecture. Lead is Fraunhofer FIT.
WP3 Integrated Care Models, Multi-morbidities, and Privacy
Medical, clinical, ethical and legal framework for the platform. Integrated care
models and plans, patient empowerment and evaluation of trials. Lead is IN-JET ApS.
WP4 Private Patient Cloud with IoT Resource Management
Development and deployment of the Patient Private Cloud: sensor network, gateway,
data fusion management for situational awareness and local event handling.
Lead is CNet Svenska AB.
WP5 Privacy Enhanced Integrated Data Management
Develop and integrate a data management subset with a shared memory manager.
Data models, memory objects, mind maps for easy browsing and access control. Lead is Technical University Kosice.
WP6 Integrated Care Orchestration with Risk Assessment and Decision Support
Representations of patient situations, prediction and risk assessment and decision support.
Lead is Fondazione Universitaria INUIT Tor Vergata.
WP7 Care Management Tools and Private & Public Cloud Integration
Care management tools for the formal carer, optimising care plans based on standard
task activities, patient profiles and constraints.
WP8 Trials preparation, Migration and Evaluation
Deployment of PICASO scenarios, use cases and technologies in the trials.
Recruitment and evaluation. Lead is Heinrich-Heine University of Düsseldorf.
WP9 Impact Creation, Dissemination, Exploitation and Business Planning
Promotion, sharing and exploitation of project results. Business framework, models and planning.
Lead is In-JeT ApS.