The PICASO platform helps to overcome the core obstacles to a continuum of care which include: complexity of managing large amounts of data, absence of essential patient data and limited collaboration between different clinical domains. It does so by providing healthcare professionals with a comprehensive overview of a patient's situation and data through a web-based interface and by enabling the creation and sharing of care plans.
The solution combines clinical, home monitoring and risk assessment data about a patient and gives access to all shared data about that patient. It consists of four main management tools: Patient Data Viewer, Data Resource Browser, Care Plan Manager and Risk Manager.
All relevant data presented
The Patient Data Viewer shows all relevant data about the patient, including basic information and comments, medication and treatment history, visits and appointments.
It displays home monitoring measurements and recordings, enabling comparison over time, and a medication adherence score, identifying any non-adherence with cardiovascular medications. Finally, it provides an overview of diseases that the patient suffers from and appointed clinicians.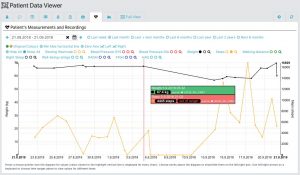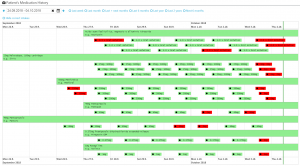 Search for shared patient information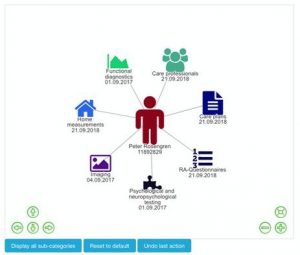 To view shared information about a patient, the healthcare professional can do a search in the Data Resource Browser, yielding a dynamic, interactive mind map of all data that the healthcare professional is allowed to access. The mind map is shown as a graph where the healthcare professional can click on the individual elements to see the associated information if authorised to do so.
If, for example, a general practitioner (GP) searches for data sent by a patient, it is possible to see all the carers who have requested data, and which data the carer has received from the patient. Additionally, the GP can click on a certain data type and see all the measurements performed and also see other carers' interventions and the care plans executed.
Creating and sharing the care plan
In the Care Plan Manager, the healthcare professional can create, integrate and share a patient's care plan between all involved professional carers. The care plans are stored as templates in a narrative form whereby certain services can be added.
In case of medication issues, the healthcare professional is notified by the system and can adjust treatment accordingly.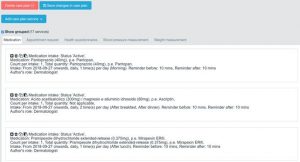 Assessing risk
To support decision making, the healthcare professional can use the Risk Manager to calculate risk scores based on patient information. For the trials, basic cardiovascular risk scores are used. It is also possible to simulate results based on change of input, e.g. predicting the effect if a patient stops smoking or manages to lower the cholesterol levels.
The system is also able to generate health alerts based on the patient data, either to patients or clinicians. However, this is currently not being implemented due to the implications in terms of responsibility. Alerts sent to patients might also trigger concern so it has to be implemented with great care.
Related article: Positive feedback from the clinical trials