This website is at your disposal by courtesy of the PICASO project as legally responsible for the content and processing of any personal data collected and used to provide the required functionality.
Below you can read about our policy for processing of personal data relevant for users of this website.
The Privacy Policy covers:
Which information we collect
How this data is stored and processed
Your rights
How to contact us if you have any questions
1. Data collected
Personal information that is collected: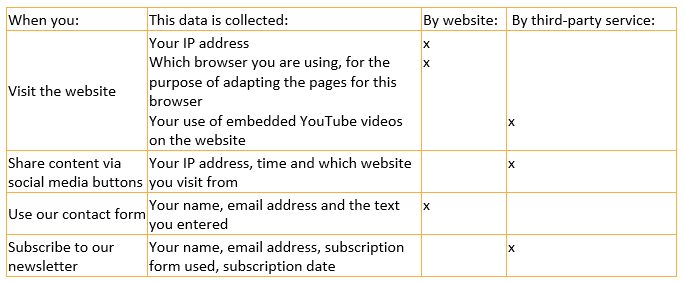 The data is used by PICASO:
To improve our website by analysing how you use it
To collect your questions and comments and process them
To contact you by email, if you have requested it
To send information about the project
Cookies
When you visit any website, it may store or retrieve information on your browser, mostly in the form of cookies. Cookies are small text files that are automatically created by your browser and stored on your device. Cookies can have different purposes. They can enable certain functions, store your preferences or provide analytics.
Cookies contain information resulting from connection with your device. However, this does not mean that we have immediate knowledge of your identity. You can read about this website's cookies in our Cookie Policy.
2. How this data is stored and processed
Data collected by the website is stored on secure servers in the European Union. We have implemented procedures and tools that ensure safe storage. Data can only be accessed and processed by authorised personnel from In-JeT ApS, who is managing the website on behalf of the project.
We do not share any personal data with other organisations for marketing or other commercial purposes. Nonetheless, we may be required to relay your personal data if stipulated by applicable legislation.
Data collected by third-party services is stored on servers in the U.S. Please see details for each service below.
Social plugins
We use social plugins (web buttons) on our website so that you can share content of our website under your profile in social network sites.
If you click on a button to share, a link will be established between our website and the social network to which you subscribe. Aside from the respective content, the social network provider will receive other personal information. This includes the information that you visit our website at that time.
We integrate the following social plug-in on our website:
Facebook Sharing of Facebook Ireland Limited
Sometimes, information is transmitted to the US domicile of the parent company Facebook Inc. This company complies with the data protection regulations of the 'US Privacy Shield' and is registered with the US Privacy Shield Program of the US Department of Commerce. Purpose and scope of the data collection and further processing and use of the data by Facebook and your user rights in your relationship with Facebook as well as your ability to influence your privacy rights by changing your browser settings are subject to your privacy agreement with Facebook. Please consult the Facebook Data Protection Statement.
LinkedIn Sharing (SlideShare) of LinkedIn Ireland Unlimited Company
For more information, consult the LinkedIn Data Protection Declaration.
Twitter Sharing by the Twitter International Company
Sometimes, information is transmitted to the US parent company Twitter Inc. The Twitter International Company complies with the data protection regulations of 'US Privacy Shield'. Twitter Inc. is registered with the US Privacy Shield Program of the US Department of Trade. Please find more information on the data protection in the Twitter Data Protection Statement.
YouTube
We embed YouTube videos on our website. YouTube is owned by Google Inc. When loading a page containing a video, YouTube will collect information about your visit and store this information on servers in the United States for an undetermined amount of time. This information may also be shared with third parties for a wide array of purposes, including serving you personalised advertisements.
Google complies with the data protection regulation of US Privacy Shield and is registered with the US Privacy Shield Program of the US Department of Trade. You can find further information on the data protection in context with YouTube in the Google Data Protection Regulations.
MailChimp
We use MailChimp by The Rocket Science Group, LLC as our newsletter platform. When you enter data through our subscription form on the website (email, name), this information is stored on MailChimp servers in U.S.
To generate performance reports for email campaigns, Mailchimp places web beacons (tiny graphic files that contain unique identifiers) in the email campaigns to record actions from subscribers. These technologies record each subscriber's email address, IP address, date, and time associated with each open and click for a campaign.
MailChimp is certified under Privacy Shield between EU and the U.S which ensures compliance with the European data protection requirements. We have also signed a data processing agreement with MailChimp.
In subscribing to our newsletter, you accept that your information will be transferred to Mailchimp for processing. Learn more about Mailchimp's privacy practices.
3. Your rights
We respect your rights, and the data your share with us is yours. You have the right to access, rectify, export and object to the use of your personal data. Regarding your personal data collected, we can let you know:
The types of personal data that are processed
The purpose of the processing
The length of time the personal data is stored
And you can always request a copy of your personal data.
The following principles are adhered to:
Your personal data is handled in a legitimate and transparent manner
Your personal data is handled with all necessary security measures
Only information with a specific, legitimate and clearly communicated purpose is collected
We only collect information that is relevant and limited to what is necessary for the purpose
We take care that your data is correct and updated
We only store your personal data as long as it is necessary for processing, or as required by the Regulation and by legislation
We ensure your access to our stored information about you, and you can always request that we erase it.
If you suspect or know of a breach of the data protection regulations, please contact us, see below. We review our Privacy Policy regularly and update it as needed. This website will reflect that.
4. How to contact us
If you have any concerns about the collection and processing of your personal data, please contact the project HERE